Interview To "The Sunny Pregnancy" School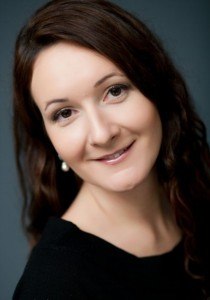 1. Maria, I heard your childbirth was easy and virtually non-painful. What helped it, as you see it?
Yes, it's true. I gave birth rapidly literally in two hours. No anesthetic, nothing, not a single scream. The doctor was then telling stories about it all around the hospital!
What helped?
First, the right frame of mind. In the preparatory young mothers course we had a very experienced instructor lady. She explained that labor is a process for the two, not just for the mother.
She said the moment you feel it all started sit somewhere quiet, hug your belly and talk to the baby.
Tell him you are with him and you're waiting for him and everything is going to be fine, you'll make it through together and you'll help him. And when the labor started that's what I did and felt huge responsibility for the baby.
Second, we've also been taught the right kind of breathing at the hospital: breathe in through your nose, and breathe out through your mouth, and the more intense the strain, the faster and more active the breath. The breath either helps or distracts from painful sensations but I know it for a fact that it makes it easier.
Third, physical activity. Both before and after pregnancy I was moving and dancing a lot, up until the sixth month kept on going to the sports club.
And in the last months of pregnancy I did a great deal of stretching the inner surface of the hips and opening the pelvis – I was walking squatting, washed the floors in that position, and I did that instinctively to find out later that's what's needed.
Fourth, I think, it's hereditary – my mother also had me instantly and from the childhood kept talking to me about it, setting a program for me so I had no other options :-)
And surely having a home birth provided lots of support – my husband and my Mom were by my side to encourage me :-)
And I enjoyed it so much that the moment I had the baby I said I would be happy to do it again!!! And everybody around me was dumbfounded :-)
2. What do you think moms-to-be need to take care of when preparing for the labor?
If we sum up what's been said it's physical activity that helps (it's important to keep on doing what you had been doing before pregnancy gently and with common sense, extra exercise and practices aren't needed during pregnancy).
Move, dance, and walk more.
The right kind of breathing during strains helps, it really is worth learning.
Set up your mind to support the baby and connect with him.
Watching videos of the baby's life in the womb and the process of birth helps, it brings about more understanding and less unexpected things. And, surely, total and unconditional trust to the doctor!!!
In "The Happy Pregnancy" course you're teaching a class "Seductive Mother". What's it about?
This class is about how to become more attractive for the husband after labor: how to normalize intimate muscles, how you can pamper the man until the doctor allows having sex, how to keep the man's sexual interest in you, and, what's most important, how to go on taking pleasure yourself.
Here's the key secret of experienced mothers: a satisfied mother has a satisfied baby, a well-rested mother has a well-rested baby, and A HAPPY MOTHER HAS A HAPPY BABY!!!
I wish easy and pleasant labor to all the moms-to-be, as well as fast recovery, healthy babies and loving, caring husbands!!! And welcome to my classes!!!
With Love, Your Maria Sñhitova