In Love... with Your Own Body
Three Steps to Bliss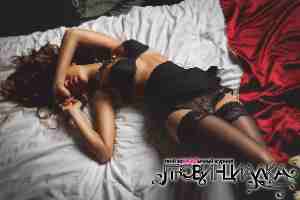 Dim light… soft music… two are making love… but it's the woman who catches the eye. It feels like the presence of the man is not a necessity – she would be enjoying herself on her own.
She is not pretending. She's doing with the man whatever she wants, not following any recommendations such "That is the right way" or "You might wanna try this one".
She's a mature woman; she knows what brings her most pleasure, she can provide it for herself and show it to the man bluntly. She listens to herself and her sensations; she does not conceal her feelings. She does not escape into fantasies or fast pace, sometimes she even stops just… to feel.
Her and her pleasure matters… nothing more… Unpretentious, animalistic, mature beauty… her bliss can be sensed even through the screen…
What is her secret? A participant told me once at a training: "Masha, you teach us things women get to know in a mature age!"
Yes, sex experts agree that ageing makes the woman more focused on getting pleasure. She yearns for pleasure, and she knows exactly what she needs to feel bliss. Speculating, manipulating the partner or just proving something to someone seems like a waste of time – and there is not much time left.
The woman expects new sensations, unexplored facets of bliss and finds them… through a loving relationship with her own body! So what can You do to be able to feel pleasure now, without having to wait until You've gained enough experience (which requires some luck)? Here are three steps that will help You reach bliss.
Step one – go back to Your "home"
The aroma of perfume is contained in a bottle, and our femininity is contained within our body. Being feminine means being in Your body. However, most women aren't even aware that they live out the principle "That's me and that's my body; I'm all in fantasies, plans, and dreams, and my body is separate from that".
A young woman has shared her insight: "Just like a child loves a bad mother, who abandons him, doesn't take care of him, but the child accepts her no matter what, loves her, waits for her and is happy when she is back, I also forget about my body, but it still loves me and always wants me back…"
Another young woman during a relaxation meditation, when I suggested visualizing the ocean, said: "To hell with the ocean! I don't want to float anywhere away from my body" and with tears in her eyes began embracing and kissing herself.
So what is "coming back to Your body" all about? It's about being in Your bodily sensations constantly: it's warm, cold, relaxed, or tight, You have some palpitations or shivers…
The body reacts to everything continuously, and it's important to learn to take note of it. Feelings are also contained within the body, experienced by the body, and while we're out of our bodies it might seem like we're feeling when in fact we're out of touch with real experience!
The mind might be puzzled by it – what's s the big deal about just being in bodily sensations and flowing between them? However, the more attention we give to that, the more exciting it gets to live in the body. A lot of women ask: "How can I switch my head off?"
"All right, - I reply, - let's say You did switch Your head off in a miraculous way. But if You're out of Your body – what is left? Nothing! So it might be a good thing after all that You can't switch Your head off". It's not about switching Your mind off ? it's about switching Your body on!
Here are a few simple tips for doing that: from time to time tap all Your body with Your palms and seize the sensations in the area where You're tapping Yourself: is it hot, shivering, tingling, pleasant or unpleasant. Tap and get a response. You can use a shower or, which is even better – a sauna switch.
And make a point of saying: "That's my belly! I do welcome You! Thank You for coming back to me!" and work this way through all Your body, without leaving out any parts. Squeeze Your muscles, especially those of arms and legs, tightening them and feeling the boundaries of Your body; be aware that You're inside, and all Your thoughts and feelings are also inside Your body, at "home".
You can thank Your muscles for making You strong, for enabling You to run, to lift weights, to hug Your loved ones; make Yourself comfortable in Your favorite armchair, close Your eyes, feel the surface You're sitting on, what You're touching it with, seize the sensations from Your clothes, how You sense Your clothes with Your skin, from hair, breathing, the temperature around You, inner sensations – pulsations, tightening or relaxing, seize more bodily sensations and proceed from one to another, as if it's the most important thing – just being in Your bodily sensations and flowing from one to another.
If the mind carries You away – just breathe in deeply and try to hold on to bodily sensations, flowing smoothly. From time to time ask Yourself: "What's more important to me – my thoughts or my bodily sensations? Footprints on the sand or sensations from my walking on it?"
Place color stickers all around Your home with a question written on them: "Where are You now?" and, having come across it, take a deep breath, come back into Your body, into bodily sensations in Your feet, stomach, from breathing inside Your mouth.
When You bring Yourself back into Your body hundreds of time a day – it changes lots of things! and the most effective way to come back home, into Your body, from fantasies, is to breathe through Your mouth. When we breathe through our nose we fill with energy our head primarily, our upper energy centers; when we breathe through our mouth – we fill with energy our body and lower energy centers.
Mouth breathing brings You back into Your body immediately. Just open Your mouth and breathe for a couple of minutes this way, making sure You hear both the inhale and exhale, feeling the breath massaging You inside, warming You up. And whenever You notice in everyday life that You got carried away – just inhale deeply and exhale through Your mouth – and You're back home! Remember there's always a place You can go back to.
Step two – dialogue with Your body: "What can I do for my body myself?"
Body loves getting inner attention. Body is a miracle! You take just one step towards Your body, and it takes ten steps towards You. Any action You take elicits a response in Your body; it warms up, as if exclaiming: "Hooray! You've noticed me! You see that I'm a live organism, not a machine!" So take time to interact with Your body! Every day ask Yourself – how am I gonna pamper my body today?
You might give Yourself a massage or get a simultaneous hand and foot massage at a parlor. You might pamper Your body with something delicious, lie huddled up, walk barefoot on the grass or sand, take care of Your body's health – do whatever Your body desires.
Thank You body: from time to time take a break to embrace and kiss Yourself and tell Your body "Thank You!" For meeting physical challenges, for loving You and welcoming You back, just for being!
Know Your body. Explore how You can touch and caress Yourself to get pleasure. What kind of touch does Your body crave? Discover Yourself, see what Your body fancies – being treated with finger-cushions or "claws", being squished or touched delicately, with fingers or with palms?
Before going to the man You need to figure out what works for You, so that You can show real energy to the man through Your body, not what You might have seen or been taught by somebody else, make-believe "moans and groans". Where is it most pleasant to be touched? What makes Your skin tingle? How can You stroke Yourself so that it gets juicy inside?
And when You hit the right spot, find the right kind of caress – breathe into it, increase Your feelings. Try to prolong pleasure. First for a second, then two, ten, then an hour, two, three…
If You head keeps distracting You, takes You into thinking, tell it: "Yes, I have noticed You. But how delicious I feel! Yes, I've got better things to do. So how can I touch myself to set my body trembling and tingling?"
Your task is to discover the sweetest sensation in Your body and try to hold on to it for as long as possible, increasing it by breathing. At some point it will start coming easily. Say "YES!" to Your body, Your pleasure, Your energy!!!
Step three – interacting with the partner from Your body
Having learnt to listen to Your body, to "fall" into pleasure and extend it, You will need to learn how to communicate that to the man during lovemaking. It takes a certain courage, as You show Your real self.
First, take Your time. At the very beginning passionate and fast movements are always suspicious – most likely they are ideas from Your head. Try to learn to differentiate between artificial passion and real pleasure.
It comes very naturally, emerging from slow, smooth movements. It might arise even when You are motionless, just breathing deeply and feeling.
And that is so natural and so real that a lot of women get frightened, deep shame for this simple pleasure emerges, and they increase the speed, pretending they are experiencing pleasure. Don't go for habitual or learnt movements or what You have seen in pornographic films; let the movements arise spontaneously from inside.
Second, relax. True pleasure emerges out of total relaxation. Don't contract anything deliberately or move You intimate muscles. They need to be toned up, not slack – that's why we are working on them; however, they need to be totally relaxed.
The more relaxed the vagina, the more it feels. Being relaxed, it kind of wraps around the man's penis and starts sucking on it gently. We don't cause it deliberately though – just breathe and relax.
Third, feel where it is most delicious in Your body, in Your vagina, increase it by breathing and try to prolong pleasure for a few seconds or even minutes. Take pleasure in slow movements, absorb and manifest pleasure.
Try to do it not from Your head, not for the man, but for Yourself, because "it is delicious, l like it, and I want it". Like a mature female who knows what she likes, is able to provide it for herself and to show it to a man boldly.
And at some point You will feel: "There is me, there is my body and infinite bliss. And it does not depend on anybody. It is just for me!" And You will get into a whirlwind of a new loving relationship, the relationship of Your life – with Your body, with Yourself…
With Love, Your Maria Shitova